Bears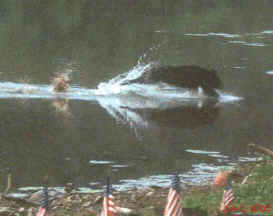 July 9, 2005 Bear crossing the Juniata at home.
| | |
| --- | --- |
| Picture taken from my treestand archery deer hunting in Tuscarora State Forest near home | He was at the next fencepost coming toward me. I was inside a deer exclusion fence. He seemed to know something was not right and turned and walked away. |
Hunts
The two bears from Idaho were in the spring and the Ontario bear was in the fall.
The spring bear hunting was with York Outfitters. Since I went there there is a different owner and I am not recommending them.

The fall bear hunt was with some friends and was set up by a friend and I went along.
Idaho Spring Bear hunts 2003 and 2005

Snowmobiling into camp. About 30 miles over an 8000 foot pass. 2003

Same pass 2005, snow melt was more advanced.

First bear rolled down mountain and landed right in the road!

About 250 pounds. 12 yrs old. June 2, 2003

Cinnamon phase Black Bear - June 4, 2003 - 3 yrs old about 400 pounds
This bear was taken two days after the first one above. Both from the same stand and it first hung up on a tree. Once I moved it free it also rolled right down into the road for easy recovery.


Sept. 10 - Ontario Black Bear - Fall 2006