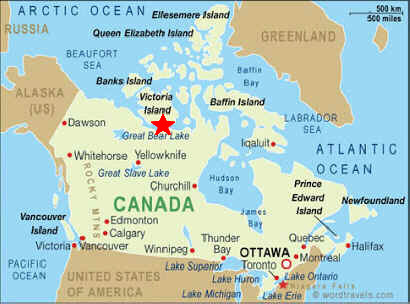 Musk Ox Hunting from Victoria Island on Nunavut, Canada
A great hunt with
Canada North Outfitting
Flew from Harrisburg, PA to Toronto, Ontaria on to Edmonton, Alberta flying on Air Canada. Then from Edmonton to Yellowknife, Northwest Territories to Cambridge Bay on Victoria Island, Nunavut on Canadian North Airlines.

April 2, 2017

Nice Large bull with good boss and horn tips above the eye. Made Boone and Crockett

Officially scored SCI as #14 on June 15th at 76 2/8

Boone and Crockett All-time level at 107 4/8


Used the signed muzzleloader.

My "Chariot"or Komatik in the Innuit language.

My two Innuit Guides, George and Dennis with their Komatks and George's snowmobile that pulled me along in the chariot.

The camp we stayed in during the hunt, heated with a diesel fuel furnace that went out overnight! Located at the rivers edge when the ice is out.

This picture is on the trip running up the river ice.

Crossing 25 miles of frozen ocean from Cambridge Bay to down on Kent Peninsula for the hunt.

Another river picture.

On the way back with the meat quarters tied on the hide and skull on Dennis' Komatik

Looking over a small group of muskox.
Not a real difficult hunt per se as far as no mountain climbing or rock scrambles and backpacking involved like Alaska hunting.
After three days of high wind and some blowing snow conditions holed up in the hotel in Cambridge Bay we were able to get off for our hunting expedition. Right down to the ocean from the hotel on snowmobile and hooded up to the prepared Komatik's and off we went for a 25 mile crossing of the Queen Maud Gulf of the Arctic Ocean on snowmobile.
Crossed a small bit of land, of course all snow and ice, and then down onto a large wide river. Total of about 90 to 100 miles we stopped and unloaded our gear and settled into the 16 by 16 plywood shelter complete with diesel heat, when it worked.
After settling in we went out looking for Muskox and found several small and one large group. No big bulls were spotted, then a little further on we ran into a group of 4 bulls and George decided we should take the largest one as we probably would not do any better.
So after getting positioned and getting a clear shot to not hit others, I took my shot and the biggest bull was down. It was about 5:30 by now and the temperatures would soon be dropping from the current 15 to 20 to much less. So without much time for pictures the skinning and quartering was taken care of and we returned to camp before dark at about 8 ish.
Dinner we had some fresh backstrap which was pretty good. After a great breakfast of bacon and eggs and some kind of homemade Innuit bread we headed back to Cambridge Bay.
I definitely recommend this hunt with Canada North Outfitters and be sure to tell them that I told you about it.
Nick