Bone Collector Double - 5 Point Stag and Hind, same day
12/9/2010
Sika Stag from 2008
Shot this fella on the first day of the any muzzleloader season on Assateague Island. Dressed 66 pounds. I shot him back in the brush behind the dunes in the picture. The wild horses in the background were completely unconcerned so it made for a great Kodak moment!
(Click on the photos for a larger image)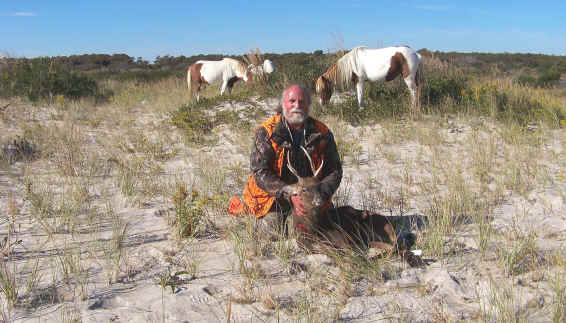 Japanese Sika deer hunt on Assateague Island. 2007
My first Sika Stag on the island. Taken on October 16, 2007 with my flintlock during the primitive muzzleloader season. This is a prime Stag. They don't get much larger than this on the island. Dressed weight was 78 pounds with an estimated live weight at 98 pounds.
This deer scores by the B&C sheet at 53 inches.
The records on MD website for the 2007 Maryland Trophy Deer Contest for deer taken in the 2005-2006 season has only two stags recorded over 53". These were taken in Dorchester County. I don't know why there are none from Worchester County which includes Assateague Island, unless there were none scored large enough. The two largest were taken in Dorchester County on the mainland. Had I taken this that year it would have been the 3rd largest entered in the contest. Maryland is a year behind in their contest. This means that mine has been entered into the 2009 Trophy Deer Contest which will be 2007 deer entries.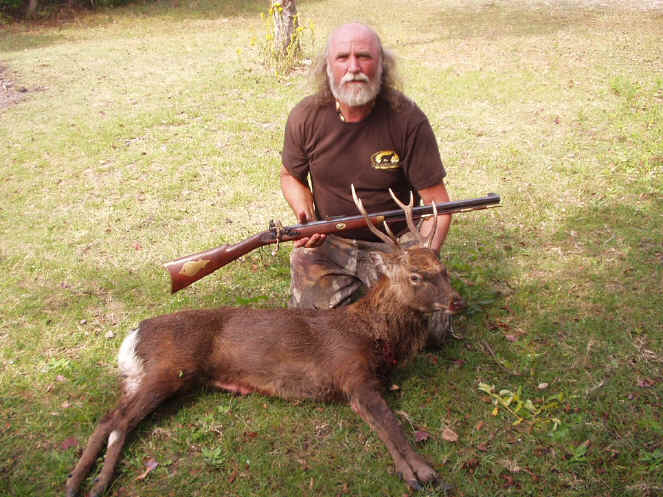 Also, see Sika: Maryland's Exotic Little Elk, an article by Brian Eyler, Deer Biologist for the Wildlife and Heritage Service, that appeared in a recent issue of The Natural Resource magazine